I know finding a place to start is part of the problem in decluttering a home. Here is a list of things I've decluttered organized by room. Most of these things will take ~15 minutes to get in order.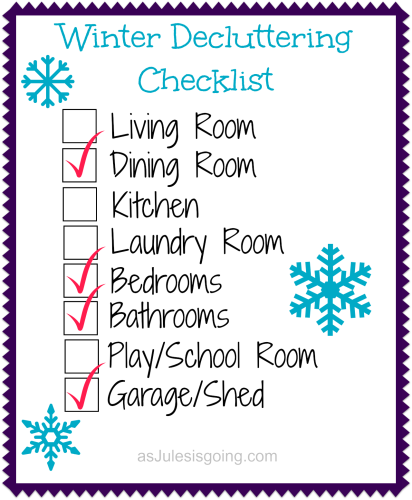 CLICK FOR A PRINTABLE WINTER DECLUTTERING CHECK LIST

Living Room
Decor/Pictures
Books
Photo Albums
Movies
Video Games
Electronics
Throw Pillows/Blankets
Coat Rack
Shoe Basket
Coffee/End Tables
Dinning Room
Decor/Pictures
Dinning Table
Table Clothes/Place Mats
Kitchen
Decor/Pictures
Counters
Top of Cabinets
Cabinets:
Dishes
Serving Dishes
Bakeware
Pots
Pans
Drawers:
Silverware
Serving Utensils
Cookie Cutters
Pantry
Medicine Cabinet
Laundry Room
Laundry Soaps
Cleaning Supplies
Paper Goods
Cleaning Tools
Bedrooms
Decor/Pictures
Night Stands
Dressers
Closets: clothes, bags/purses, hats, scarves, shoes
Bedding
Bathrooms
Decor
Bathtub/Shower Stall:
Toys
Toiletries
Drawers:
toiletries
washclothsmakeup
hair accessories/tools
Cabinets:
towels
toiletries
clean supplies
Play/School Room
Decor/Pictures
Toys
Games
Books
Curriculum
Craft Supplies
I'm excited to say that nearly 90% of my list has already been checked off! ...the GARAGE. Let's just use the "its too cold outside" excuse and pretend the attic and tiny shed in the backyard don't exist.