Those of you who know me at all, or have creeped on my exorbitant amount of family pics on Facebook, you've seen my favorite product from Inch Bug: Orbit Labels! All 3 of my kids have them. They are awesome. If you're anything like me you have the 'cheap' generic cups you can get at any wally world. along with every other kids in the nursery, daycare, or mom's morning out. How to you teach your child not to share cups/germs when they can't figure out which cup is their cup? Label it!
The Orbit Labels are a non-adhesive, reusable method of labeling containers. They work great on drink containers as well as common toiletry items. The Orbit Label was designed to fit snug around the traditional 4-ounce baby bottle and stretch to accommodate larger sport bottles (up to approximately 30 ounces). They even fit snug on most flashlights. The elastic nature of our labels allows them to "orbit" a container with a snug fit. InchBug orbit Labels can withstand the rigors of repeated dishwashing, microwaving, boiling and sterilizing all while maintaining a clear personalization on a container.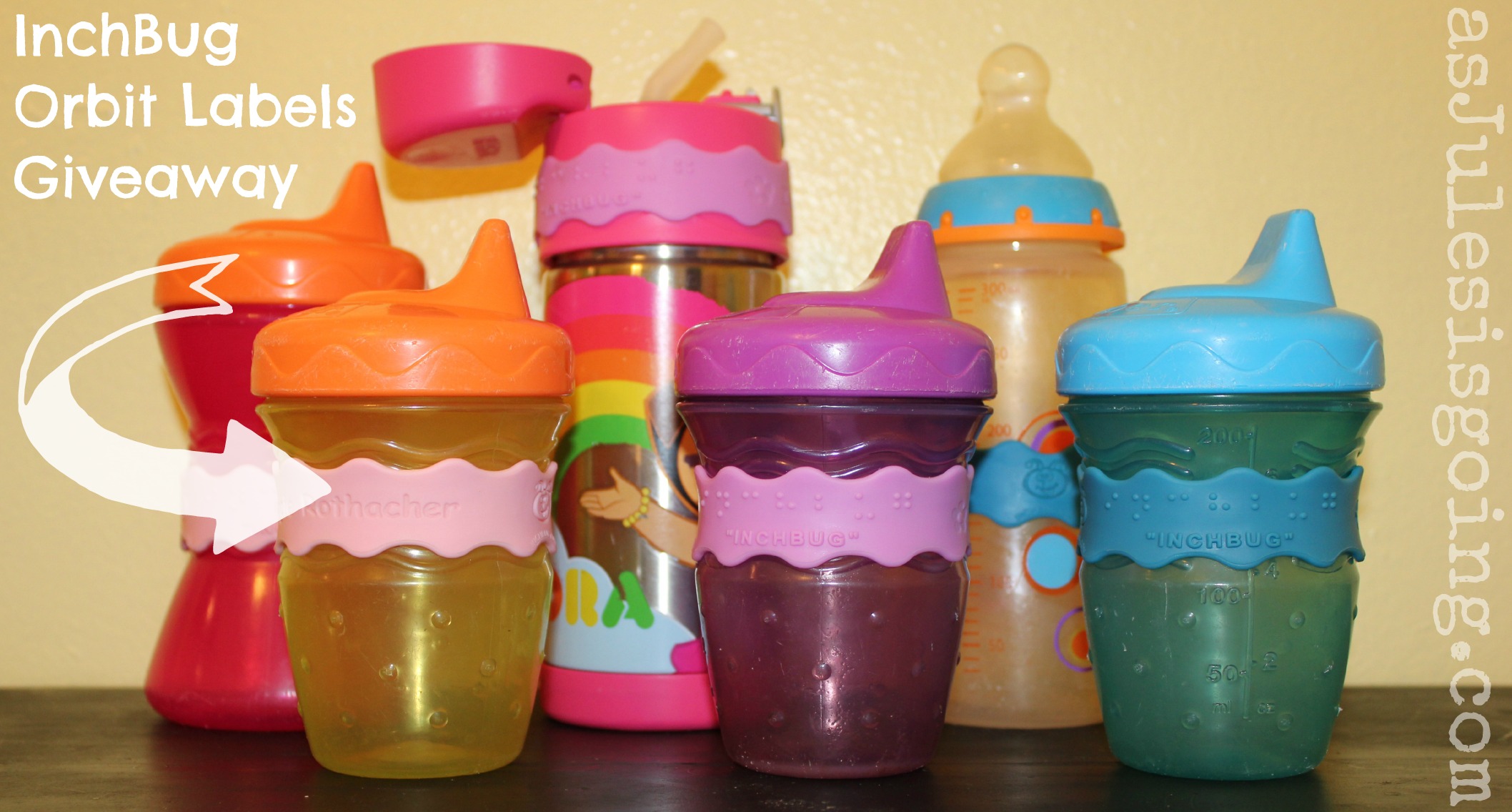 All 3 of my kids know which color label is their color. These labels are a huge help when we are just at home with 3 similar cups! Even my 18 month old! That doesn't mean when his cup is empty he doesn't try chug his sisters'; it just means he sneaks and grins while he does it ;o) I put my kids 1st and last name on them for public arenas. They have 8 colors to chose from! That means I could have up to 5 More Kids and still have different colors for each of them ;o)
When we first got these, I was constantly taking them on and off to warm drinks and wash them nightly for the first 2 YEARS. Not Any more! These things Microwave AND the Dishwasher safe!!! Good to know! They are so stretchy but always go back to the same size when I pull'm off but no real need to. They come in packs of 4, so I can have up to 4 cups for each child without having to switch them. I love my labels and recommend them for everyone!
Find another product description and some customer reviews HERE.
Inch Bug has TONS of fun products other than the really cool orbit labels like these: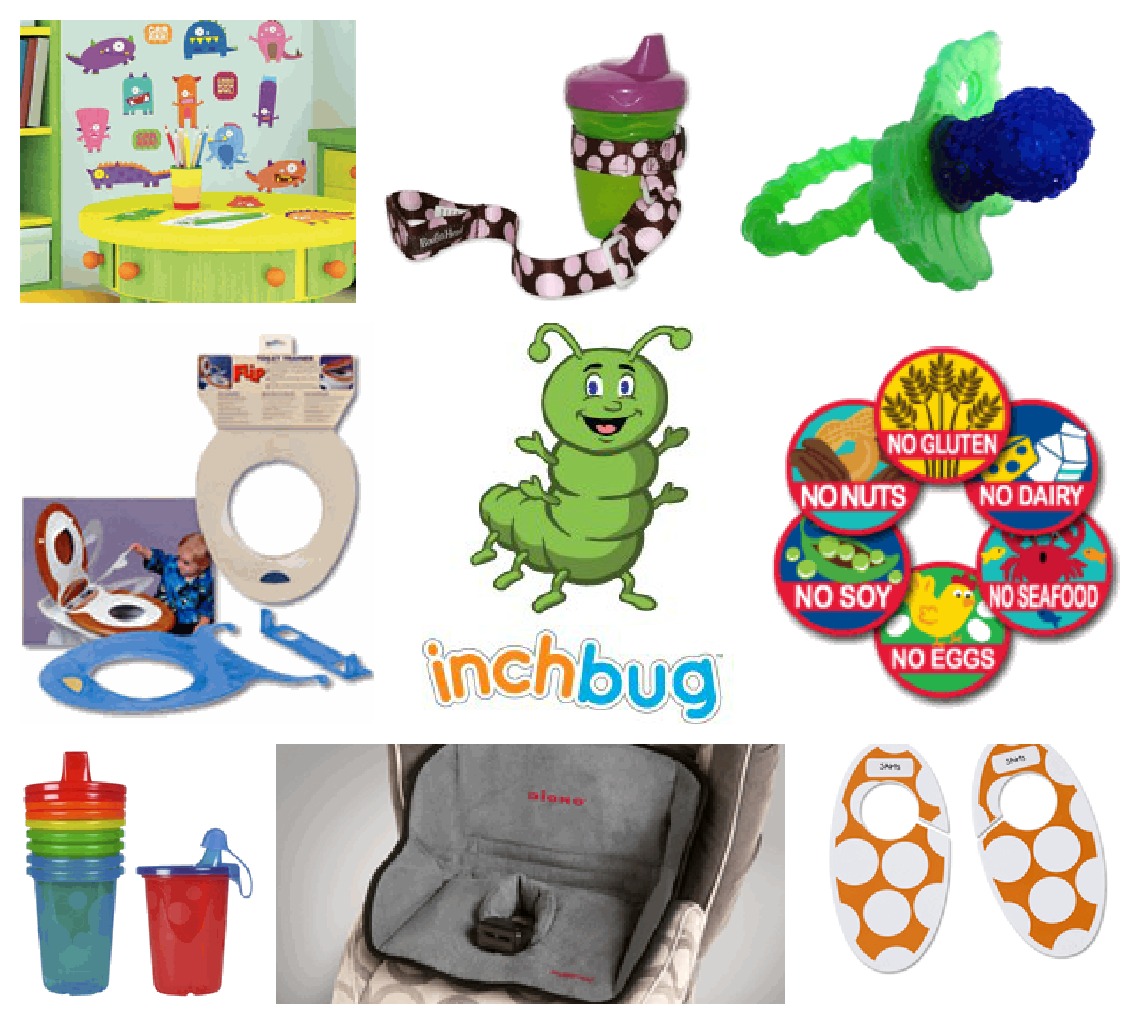 InchBug is giving away one set of personalized orbit labels! You can make these say anything! Put your child's name on the it. Put a funny nick name on them. You could even say: NOT YOURS Back away slowly.
*UP TO 17 CHARACTERS INCLUDING SPACES *2 LINES OF TEXT ARE NOT REQUIRED
Here's a complete linked up list of the 20 Days of Giveaways! Click around and enter to win them ALL!
{some links will not work until the day that post/giveaway goes live}
{All giveaway are live until midnight Aug 19th when they all close!}
Day 1: Sarah Mae: 31 Days to Clean, How to Market and Sell Your eBook, and Frumps to Pumps
Day 2: Amy Bayliss' Pursuit of Proverbs 31
Day 3: Jessica Bowman's Raising Wild Things
Day 4: LeighAnn Dutton's 20 Minute Meals eCookbook
Day 5: Mel's Charming Creations' Antiqued Framed Chalkboard
Day 6: Little Diva's Bling N Bows $25.oo Gift Certificate
Day 7: Poppy Seed Projects $25.oo Gift Certificate
Day 8: V. Lynn James {local artisan} Owl Canvas Painting
Day 9: Diva's Faith N Frills' 2 Flower Hair Clips
Day 10: DaySpring Christmas in Aug Set
Day 11: Today's a Gift $25.oo Gift Certificate
Day 12: Avon {Personal Rep: Lori McCorvy} Strawberry White Chocolate Bath Set
Day 13: What's in the Bible? DVD Vol 1
Day 14: Union28 $25.oo Gift Certificate
Day 15: InchBug Set of Orbit Labels
Day 16: Radical {the book} by David Platt
Day 17: Thirty-One Gifts {personal consultant Jessica Colley} Large Utility Tote
Day 18: It Works! {personal consultant Danna Magness} $25.oo Gift Certificate

contains affiliate links