I am so excited to continue the 20 days of giveaways with Amy Bayliss' Pursuit of Proverbs 31 eBook!
Amy Bayliss is the author of Pursuit of Proverbs 31, along with a host of other things. I met Amy in after coming on as a contributing writer for the Homemaker's Challenge. Through a random turn of events Amy, the founder and original owner of HC, returned. Amy opened up her wide knowledge of everything blogging to us and I learned a Lot under her. Homemaker's Challenge has a lovely new owner now that is a God-send but He always knows how to work His 'networking' to accomplish His will.
I am so excited to tell you about her awesome book today! Pursuit of Proverbs 31 is not like anything else I've ever read on this chapter of the bible. Girls, you need this book! Guys, your women needs this book! Normally, what you hear about being a "Proverbs 31 Women" is a list of how you should behave, what you should be accomplishing for your family, and as a result how you should be seen by your husband, children, and the community.
This book is nothing like that!
This book is freeing! Like the true character of Christ, this book brings out the freeing truth of what Proverbs 31 is really sayings. It's not a list of do's and don'ts, just like the rest of the bible isn't a list of rules. Amy has done her biblical digging to help women find their true identity in Christ. There are several other reviews of this book found HERE.
Today, Amy has generously given me a copy of Pursuit of Proverbs 31 to giveaway!!!
Can't wait for the giveaway or need a copy for a gift? That's fine, buy it HERE!
eBook: 145 pages
Publisher: My Southern Media
Language: English
Price: $4.99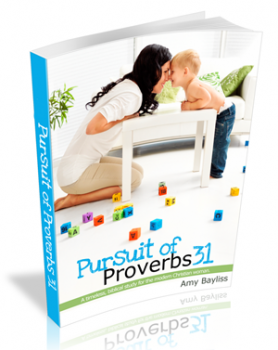 Did you miss Day 1 of the 20 Days of Giveaways? That's okay! You can still go back to enter to win HERE for 3 different eBooks by Sarah Mae: 31 Days to Clean, How to Market and Sell Your eBook, and Frumps to Pumps!!!
Here's a complete linked up list of the 20 Days of Giveaways! Click around and enter to win them ALL!
{some links will not work until the day that post/giveaway goes live}
{All giveaway are live until midnight Aug 19th when they all close!}
Day 1: Sarah Mae: 31 Days to Clean, How to Market and Sell Your eBook, and Frumps to Pumps
Day 3: Jessica Bowman's Raising Wild Things
Day 4: LeighAnn Dutton's 20 Minute Meals eCookbook
Day 5: Mel's Charming Creations' Antiqued Framed Chalkboard
Day 6: Little Diva's Bling N Bows $25.oo Gift Certificate
Day 7: Poppy Seed Projects $25.oo Gift Certificate
Day 8: V. Lynn James {local artisan} Owl Canvas Painting
Day 9: Diva's Faith N Frills' 2 Flower Hair Clips
Day 10: DaySpring Christmas in Aug Set
Day 11: Today's a Gift $25.oo Gift Certificate
Day 12: Avon {Personal Rep: Lori McCorvy} Strawberry White Chocolate Bath Set
Day 13: What's in the Bible? DVD Vol 1
Day 14: Union28 $25.oo Gift Certificate
Day 15: InchBug Set of Orbit Labels
Day 16: Radical {the book} by David Platt
Day 17: Thirty-One Gifts {personal consultant Jessica Colley} Large Utility Tote
Day 18: It Works! {personal consultant Danna Magness} $25.oo Gift Certificate

contains affiliate links