Pinata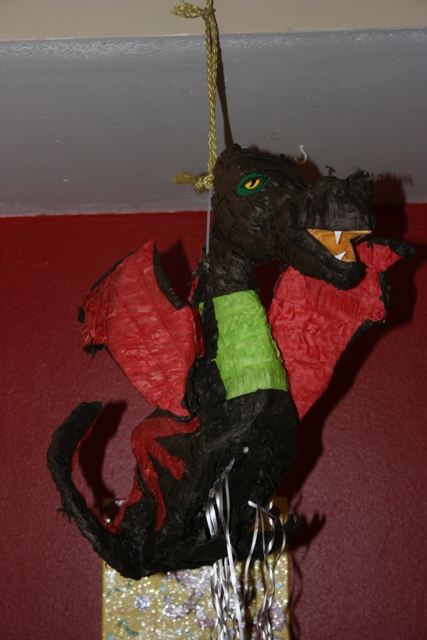 Since it's a 1st birthday we needed some kind of simple yet fun game that both big and little kids so do. I decided a pinata would be fun and tried to make this regular pinata into an pull sting pinata…fail. It was a awesome added decoration but my attempt at making it a pull sting so it would be 1-year-old friendly didn't quite work. Oh well. I'll tell you how I did it and I'm sure you could figure out how to do it a little better.
*Excuse the laundry basket full of stuff and the rest of the mess on the table- we were crafting that day.
Supplies:
Steak Knife
Packing and scotch tape
Currling Ribbon
Scissors
Glue Stick
Hot Glue Gun
I chopped a flap open on the bottom of the pinata using the steak knife leaving 1 side still attached.I then cut the curling ribbon the desired length. I chose 1 string to be the "opener" and used the packing tape to make sure that string was securely attached to the flap as to pull open the entire thing when tugged}. Then I lightly taped the other strings around the edge. ***I think this was my mistake. If I had used the glue stick they might have fallen out easier as opposed to any string being the "opener". OR if I'd punched small holes in the flap and slid the extra strings through without having them attached at all. If you know how LET ME KNOW! Then I stuffed that pinata to capacity.
I chose to use Great Value fruit snacks as a healthier option for the littles that would be at the party. I added in some sheets of stickers cut into individual pieces for added confetti and grab-ability. Instead of greedy grabbing I taped each child's name around a bag of snacks. I've also seen this done with little plastic bags of other snacks. I put an extra in there in case I forgot a name. FUN!